What is identity verification and why do we need it?
According to the Fifth Anti-Money Laundering Directive (5AMLD), all users who make transactions with cryptocurrencies must undergo mandatory identity verification. This verification stage allows you to trade on EXMO.com, make crypto and fiat deposits. For U.S. citizens, passing address verification is required to get access to instant bank card deposits and withdrawals.
What documents do you need to pass identity verification?
To successfully pass identity verification, you will need to provide a photo of one of the following documents:
Passport (the first two pages)
National ID card (both sides)
Driving license (both sides)
The passport, ID card or driving license provided for verification must contain the following information:
The country that the document was issued in
The serial or document number of the identification document
Issue date of the document
Last/first name
Date of birth
Note:
Coloured scanned copies or photos must be taken with a light background. All four corners of the document must be visible. The image must be submitted either in JPG or PNG formats. The size of each file must be between 100KB and 8MB. If you need to upload two photos of two sides, upload the documents separately.
How to pass identity verification?
To verify your address, select the "Account verification" section, using the drop-down menu, located in the upper right corner of the screen.
2. On the next screen, locate "Identity verification" and click on "Get started".
Identity verification steps
Identity verification consists of the following four steps:
1. Fill in personal information (First/Middle/Last name, DOB, Country of issue).

2. Select your document type (Passport, ID card or Driver's license) and provide document details (serial or document number, date of issue and expiration date). If the document does not have an expiration date, please select "My document hasn't got an expiration date".

3. Upload scanned copy/photo of the document.
Note:
Only documents with information in Latin or Cyrillic characters are accepted.
All scanned copies or photographs of documents must comply with the following instructions:

Only JPG, PNG and PDF formats are accepted.
Only coloured copies are accepted.
Documents should not be edited using any editing software.
The size of a file should be between 100KB and 8MB. All document details should be clearly visible.
4. In order to successfully complete identity verification, you must take a selfie holding the document submitted as part of the previous step. You can either upload a photo or use a webcam.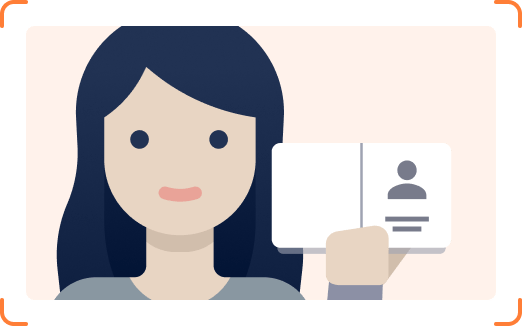 Upon finishing the data upload, please click "Finish" and you will see the following message displayed:

This message displaying means that everything is alright and your data is being processed. It usually takes up to 30 minutes to process your documents before we confirm successful verification. However, please be aware that the verification process may take up to 24 hours in some instances, in order to comply with rules.